How to Create a Hyper Casual Game Prototype
Learn the significance of game prototyping, benefits, testing strategies, and best practices for hyper casual game design with ProtoPie.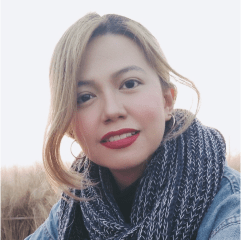 Bern Espino, Content Designer
August 24, 2023
Who hasn't ever killed time playing Tetris or Candy Crush? Known for their simple mechanics and instant gameplay, hyper-casual games have entertained millions and risen to the top among the
best-selling games
in history. With such a track record of success, it's no wonder developers are eager to launch new games.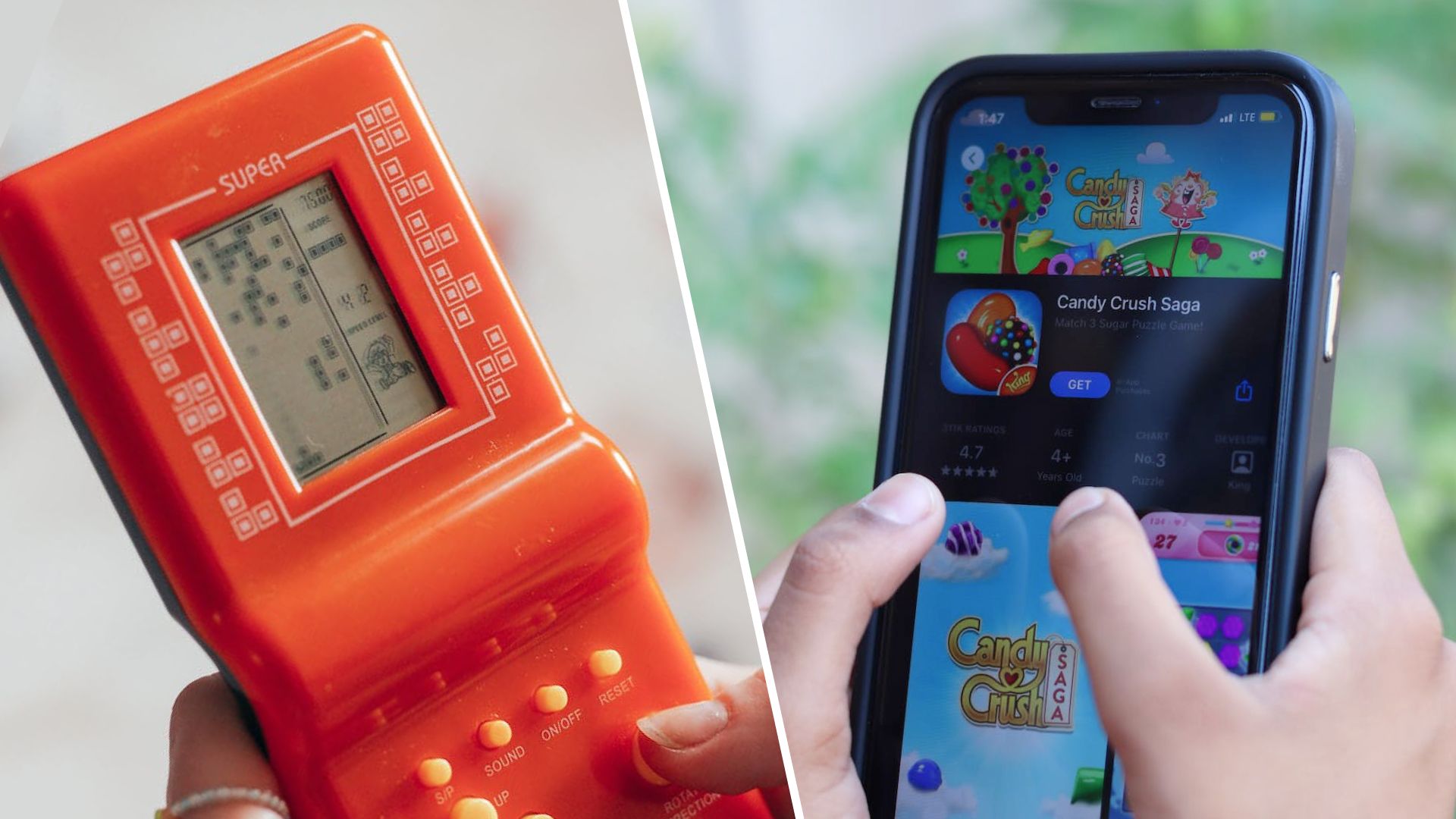 The problem is that while the games are simple, hyper casual game development is anything but. That's where game prototyping comes in, as it allows game designers and developers to test concepts and mechanics before investing significant time and resources in development.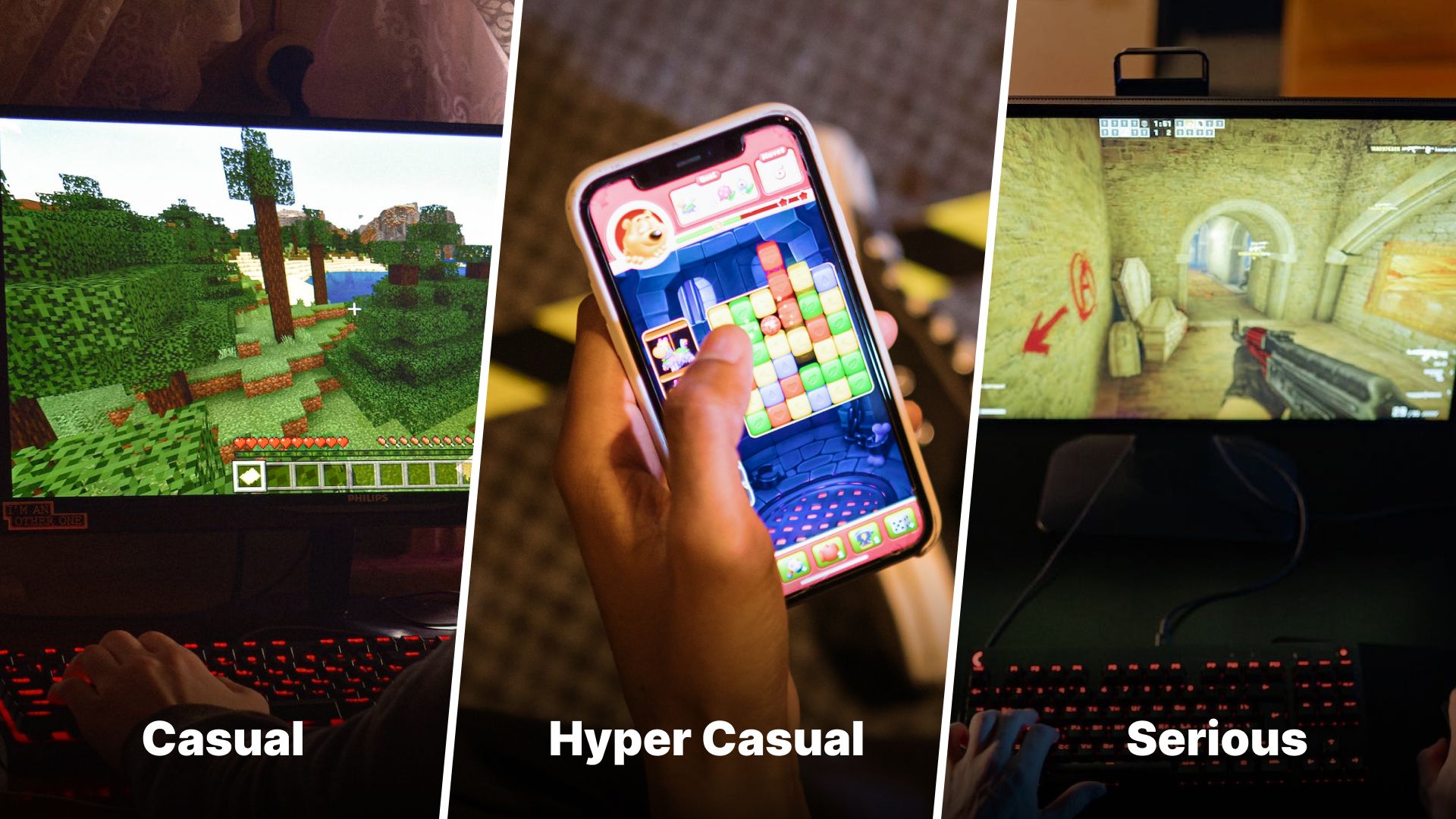 In this article, we explore the benefits of game prototypes, why it matters, and how to create your own using
ProtoPie.
Overview
What is a hyper casual game?
Benefits of game prototyping for hyper casual games
Testing hyper casual games for success
How to create a hyper casual game prototype
Best practices for creating a hyper casual game prototype



What is a hyper casual game?
Hyper casual games are designed solely for short bursts of play, using minimalist graphics and ultra-simple mechanics. Players should be able to understand the goal and start playing in just a few seconds.

For examples of hyper casual games, you can think of classics like Tetris or Pacman, or newer games like Flappy Bird, Candy Crush, 1010! and Helix Jump.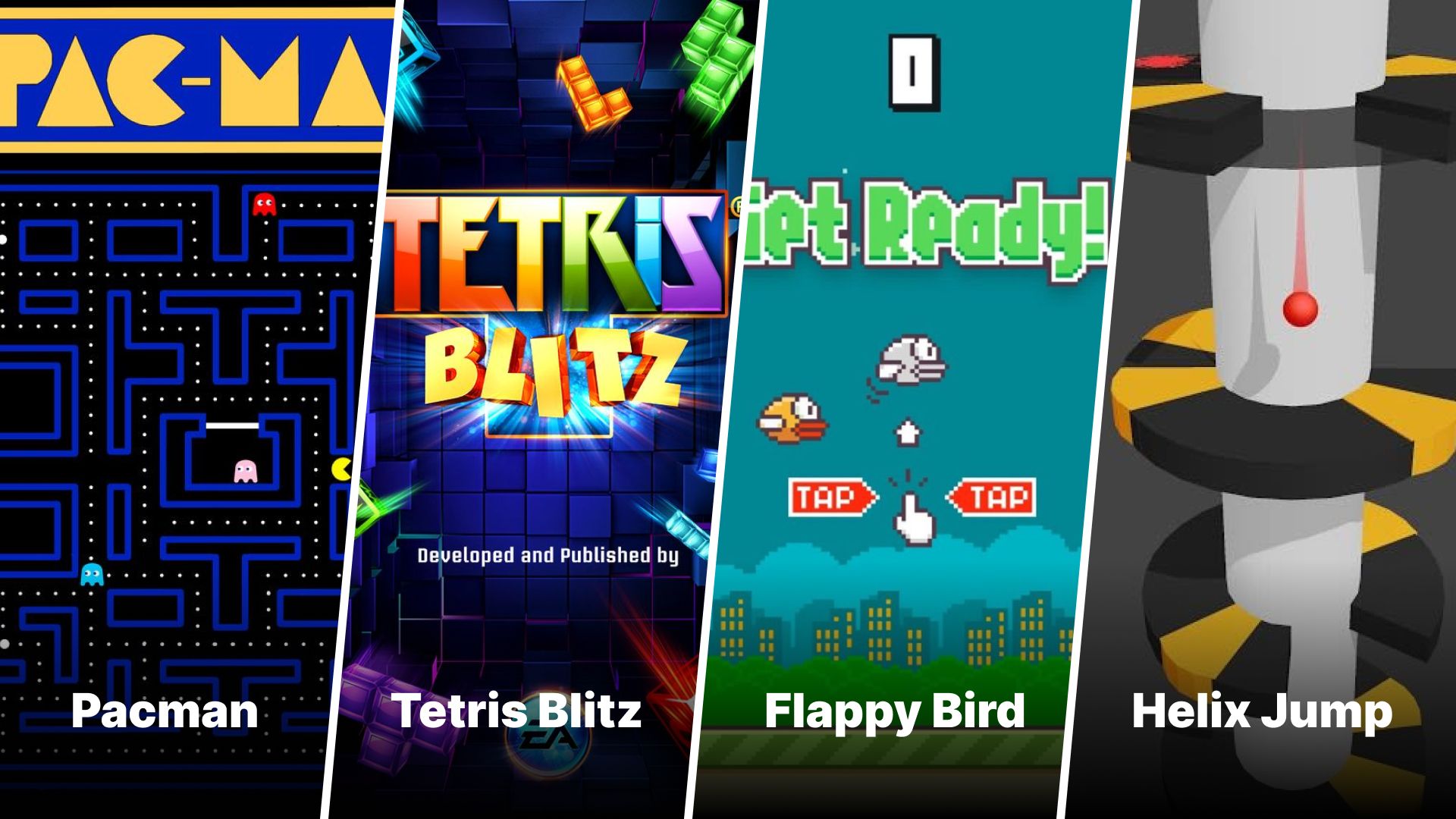 Example of hyper casual games
In contrast, casual games are less serious than games such as
Fortnite
or
Dota II
, but they can still be played for short bursts or extended sessions. Still, casual games tend to incorporate tutorials, progression systems, and more in-depth features. Think
Mario Kart
and
Minecraft
.
Unlike serious or casual games, the goal during hyper casual game development isn't to build complexity—but to keep the game simple. This means that when designing prototypes for hyper casual games, you should keep these 3 characteristics in mind: Simplicity, Accessibility, and Instant Enjoyment.

Benefits of game prototyping for hyper casual games
Jumping straight into game development is extremely risky. Building a prototype as part of your hyper casual game design can keep development on track and avoid expensive hiccups.
Here are some key benefits.
1. Early issue detection
Prototyping helps you identify pitfalls and challenges in gameplay mechanics and interface dynamics. This early detection ensures developers can address concerns upfront, resulting in a smoother and more predictable development journey.

2. Idea exploration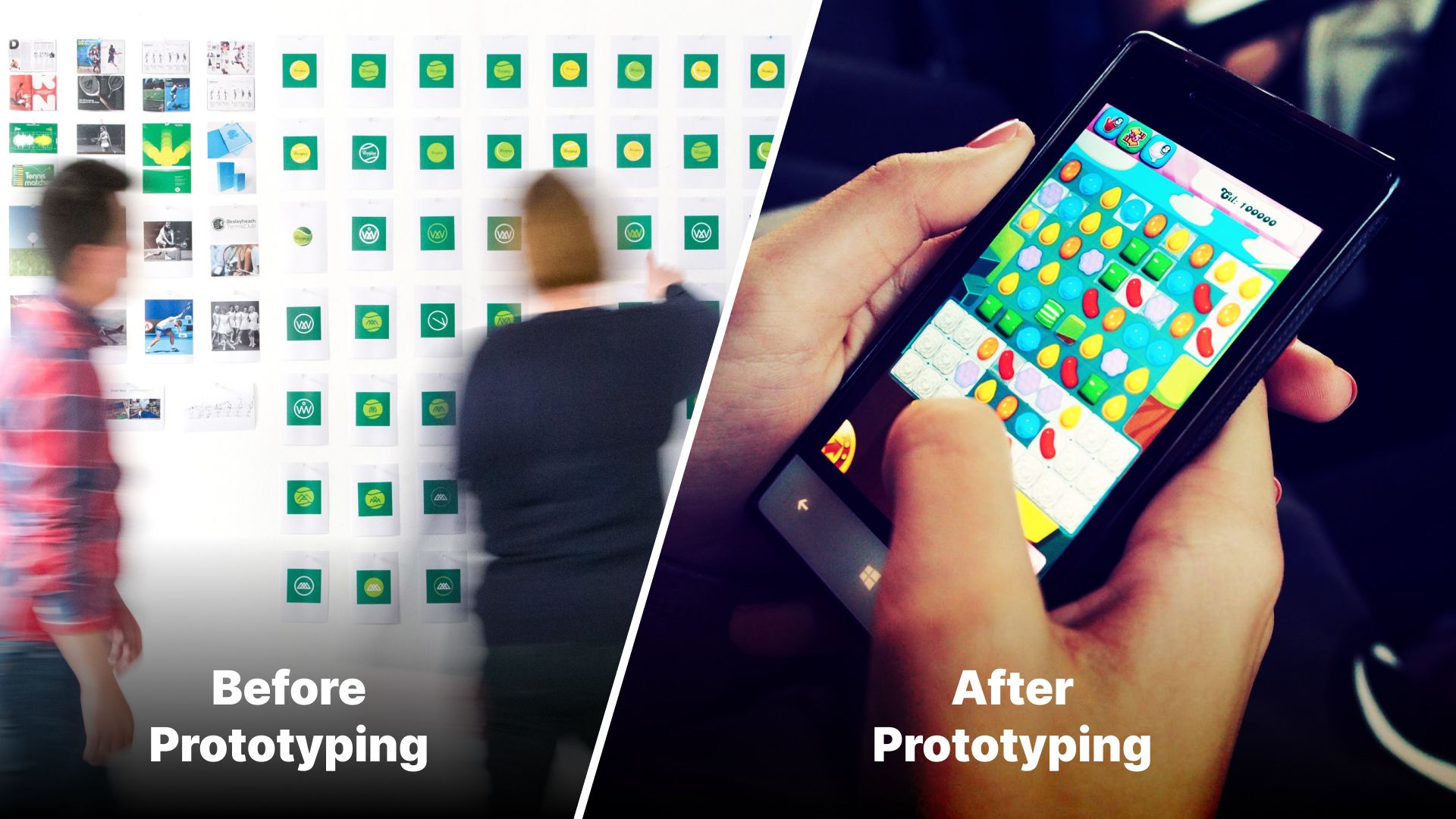 3. Engagement insights
Monitoring how test players interact with a prototype can be revelatory. Developers gain a nuanced understanding of player behavior, preferences, and potential roadblocks. This knowledge can be channeled into refining gameplay elements, ensuring the final product resonates strongly with its target audience.
4. Cost-efficiency
Making alterations during prototyping is usually quicker and less resource-intensive than full-scale development. This ensures funds and manpower are allocated more effectively, eliminating the need for major overhauls or redesigns later.
Testing hyper casual games for success
Complex graphics and mechanics don't define success in hyper casual games. Instead, the secret is balancing the simple yet addictive mechanics and gameplay. You'll want to appeal to the masses with the game's inherent simplicity—all while keeping consistent engagement without overwhelming the player.
But it can be hard to build a
gaming UX design
that hits the sweet spot of intuitive, easy-to-use, and accessible.
With a tool like ProtoPie, you can quickly and easily transform initial concepts into interactive, playable prototypes.
To make it even more immersive, you can test the prototypes on the exact device they were intended for—be it gamepads, hardware, tablets, computers, or mobile phones—and use the same controls and
multi-touch gestures
as you would in the real game.
Of course, once you have your prototype, you'll have to tackle questions like:

How do you determine the optimal mechanics?
What is the perfect gameplay speed?
The answer lies in A/B testing. By creating and comparing two versions of a specific game feature, you can pinpoint what resonates more with players, allowing you to optimize the mechanics and gameplay speeds.

Obviously, to do that, you've got to get real-world feedback from the users.
ProtoPie has introduced a
user testing feature
to gather real-time feedback from prospective players. By being able to conduct user tests using the same tool you create your prototypes, it's never been simpler to determine if you've got the right mix of challenge and accessibility.
And the more hooked your test players are, the more you know you've hit success.
How to create a hyper casual game prototype
Game prototyping
is a critical phase in development. In this section, we'll walk you through the process step-by-step.
1. Pick your game sub-genre and themes
Start by determining the hyper casual sub-genre of your game, be it endless runners, match-three puzzles, or idle clickers. This decision acts as a foundation, guiding and refining your creative process.
With the sub-genre in mind, you can brainstorm possible game themes. Whether influenced by a trending dance move, a classic board game, or your favorite coffee shop experience, your sub-genre provides the backdrop.
2. Streamline your ideas
Got a notepad full of ideas? Great! It's good to have a lot of game ideas in the back of your head to ensure a continuous flow in the development cycle as you keep iterating.
But, at this point, you should narrow them down to the ones most likely to succeed for a broad target audience. You should select ideas with widespread appeal, avoiding niche or divisive themes.
3. Find the game's core feature
Ask yourself these key questions:
What's the WIN condition? Like passing through the gaps in Helix Jump.
What's the FAIL condition? Such as hitting the red blocks around the gaps.
How can players improve? Pure skill, or can they get extra features?
For inspiration, look at Voodoo's Catch and Shoot, where players hurl balls at teammates across rooftops in a fast-paced reaction game.
4. Select the control mechanics
Hyper casual games tend to rely on a primary core game mechanic. Do you want players to swipe, tap, or drag?
For example, in Flappy Bird, you tap the screen for the main character to jump up and over obstacles, whereas, in Helix Jump, you drag the screen to let the ball fall through the gaps. The more clarity you have, the easier prototyping the game will be.
While some sub-genres have standard controls, always ask: to follow or to innovate? Familiarity breeds comfort, but innovation can make you stand out.
5. Illustrate the storyboard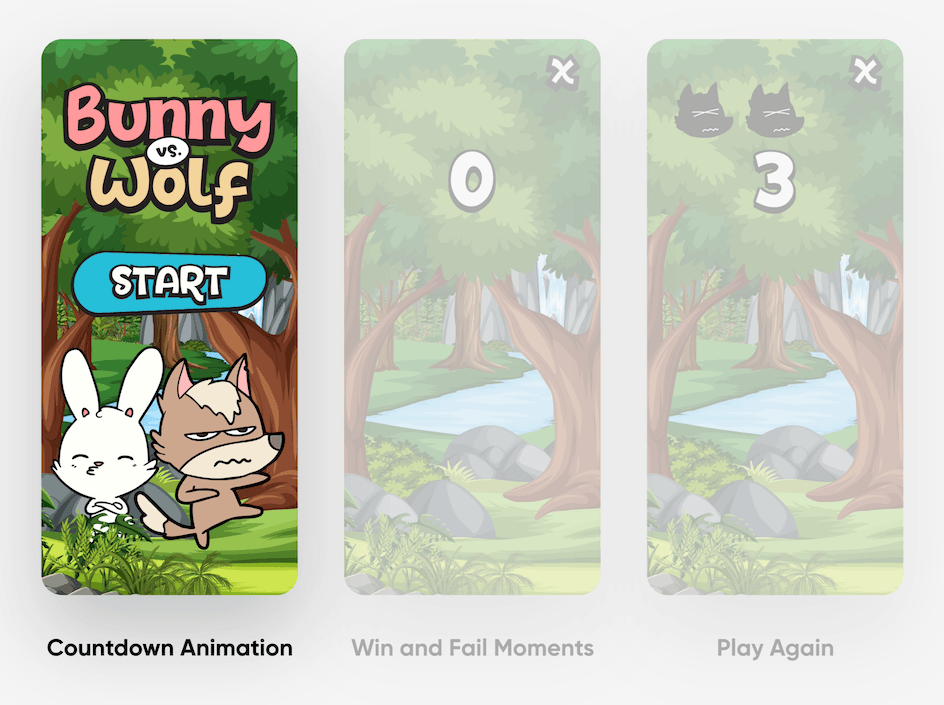 Ensure you detail:
The initial three seconds:

Quick gameplay demonstration.

The WIN and FAIL moments:

Capture moments of success and blunders.

The PLAY AGAIN factor: A special feature or outcome that triggers a replay desire.
For instance, in Meteor's Attack!, the WIN moment comes when you completely destroy the planet, obliterating it in a cataclysmic explosion. (Pretty satisfying, huh?)
6. Keep validating, testing, and iterating
It's easy to make a realistic prototype that works like the actual game using ProtoPie, all without any need for code.
Once you've created your prototype, all you need to do is hit "Share" to generate a link and send it to team members, stakeholders, or test users. The more accurate feedback you receive, the more accessible and addictive you can make it through repeated tests and iterations.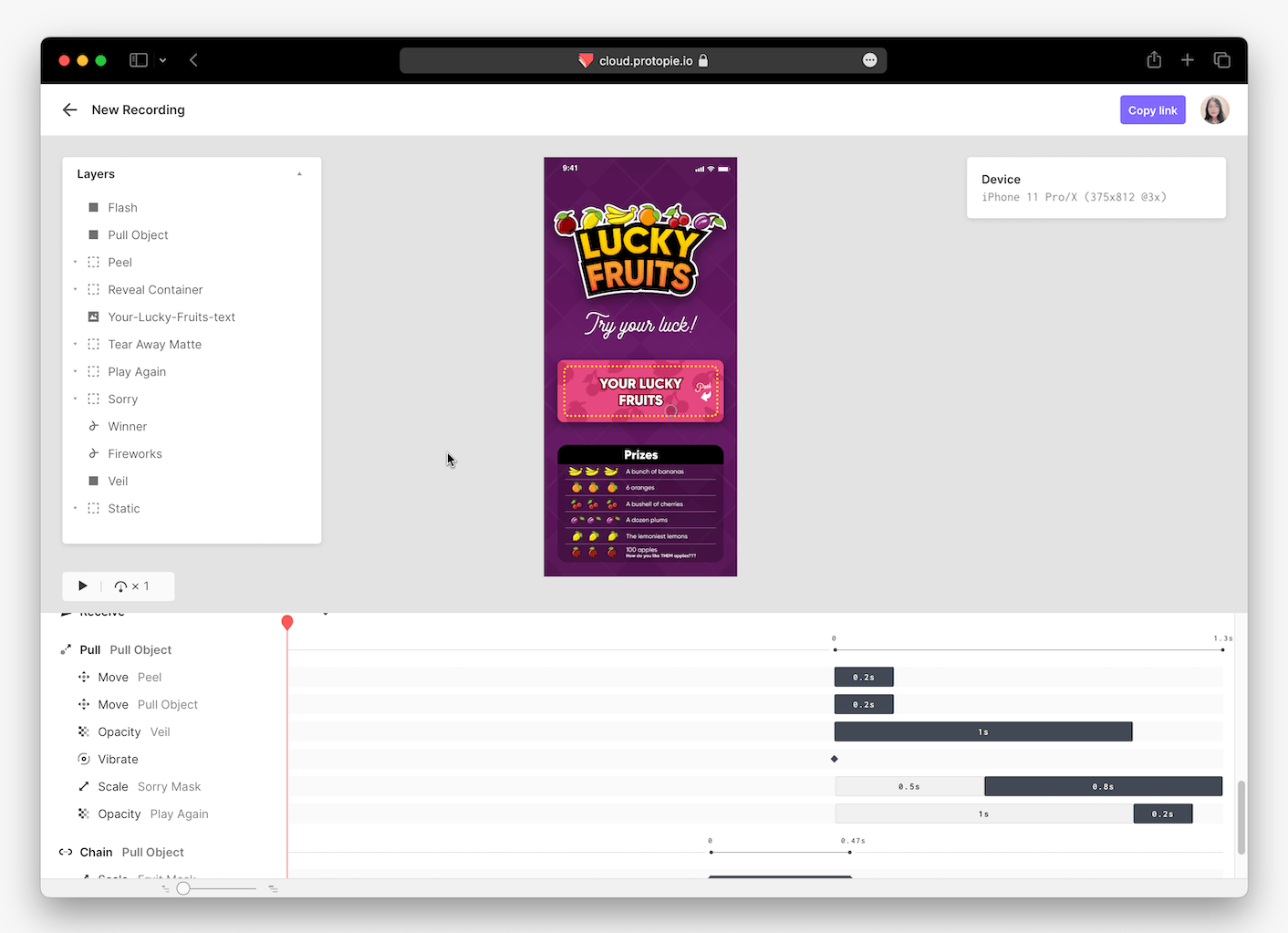 As you move further into development, the
interaction recordings
feature provide a straightforward way for you to present your vision to developers.
Best practices for creating a hyper casual game prototype
Blending creativity and functionality to create a winning hyper casual game doesn't have to be complex, especially not if you follow these best practices for success.
1. Import assets from design platforms
In the fast-paced world of game design, it's crucial to have tools that sync seamlessly with your favorite design platforms.
Whether you've crafted artwork in Figma or another top-tier design tool, an efficient import strategy can:
2. Use fluid and interactive animations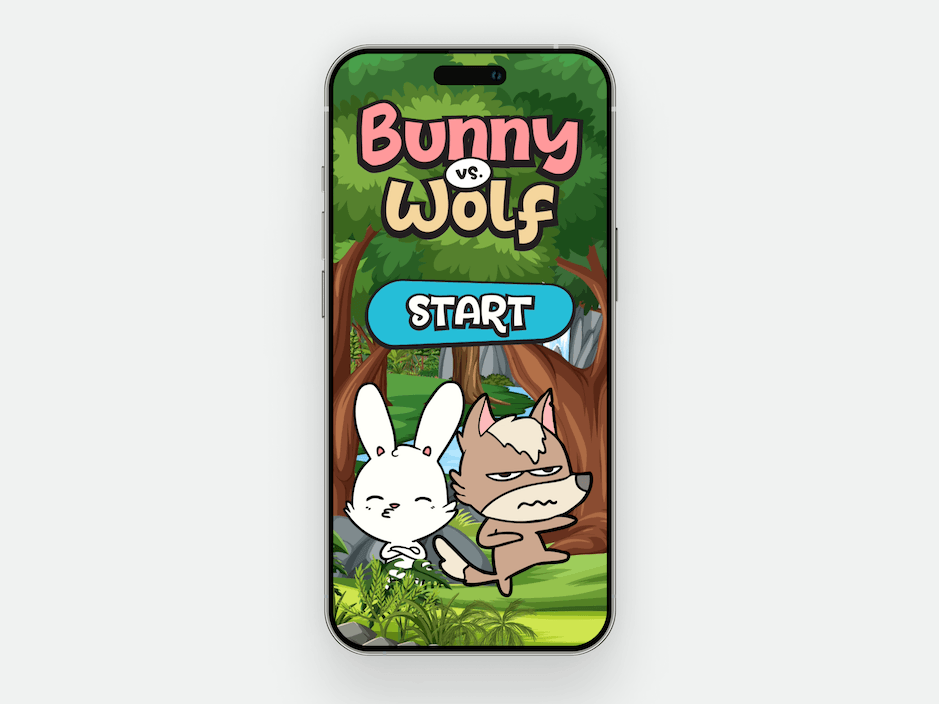 The hallmark of a stellar prototype is animations that mirror the final product. This offers a realistic preview and provides a clear roadmap for developers to follow during the handoff stage.
3. Reuse components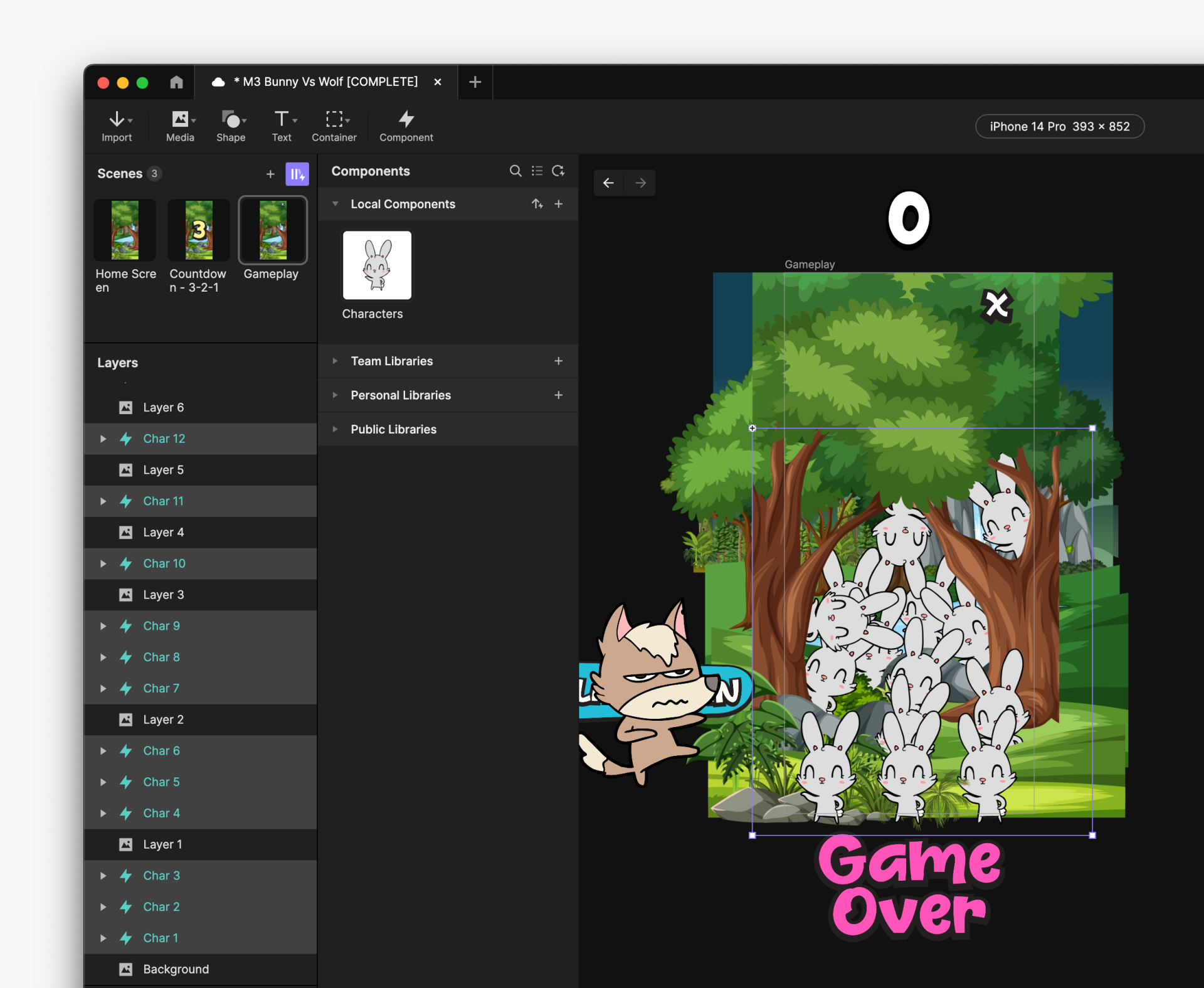 Every designer knows the tedium of redundant tasks. A game prototype tool that champions reusability can be a game-changer (no pun intended).
4. Introduce randomness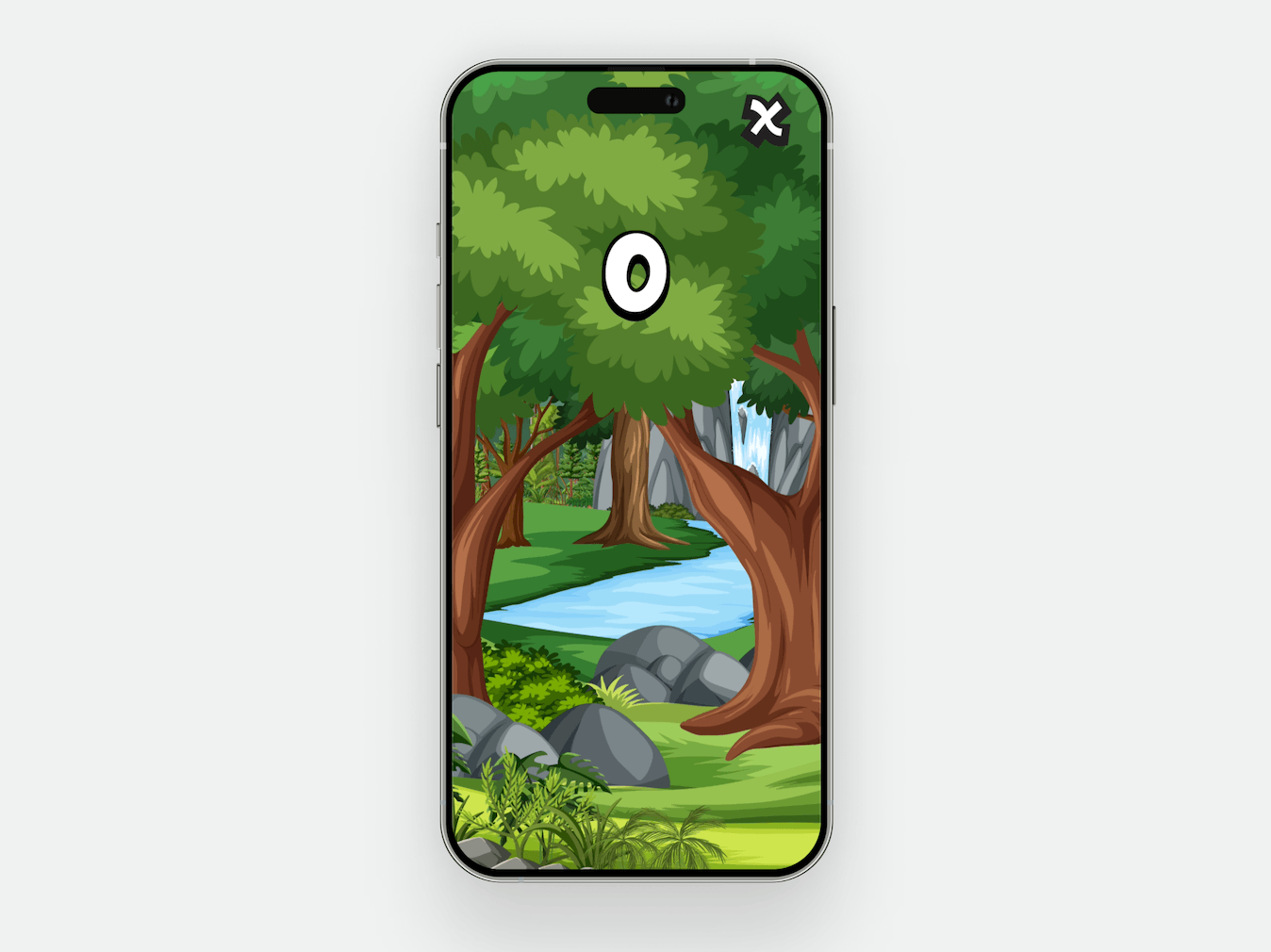 Every memorable game has moments of surprise. These unpredictable elements can distinguish between an average and an unforgettable gaming experience.
5. Maintain states
Striking the perfect balance between fidelity and efficiency is paramount. For mobile platforms, optimizing performance involves seamless character and object animation, resulting in a smoother, more interactive gaming experience.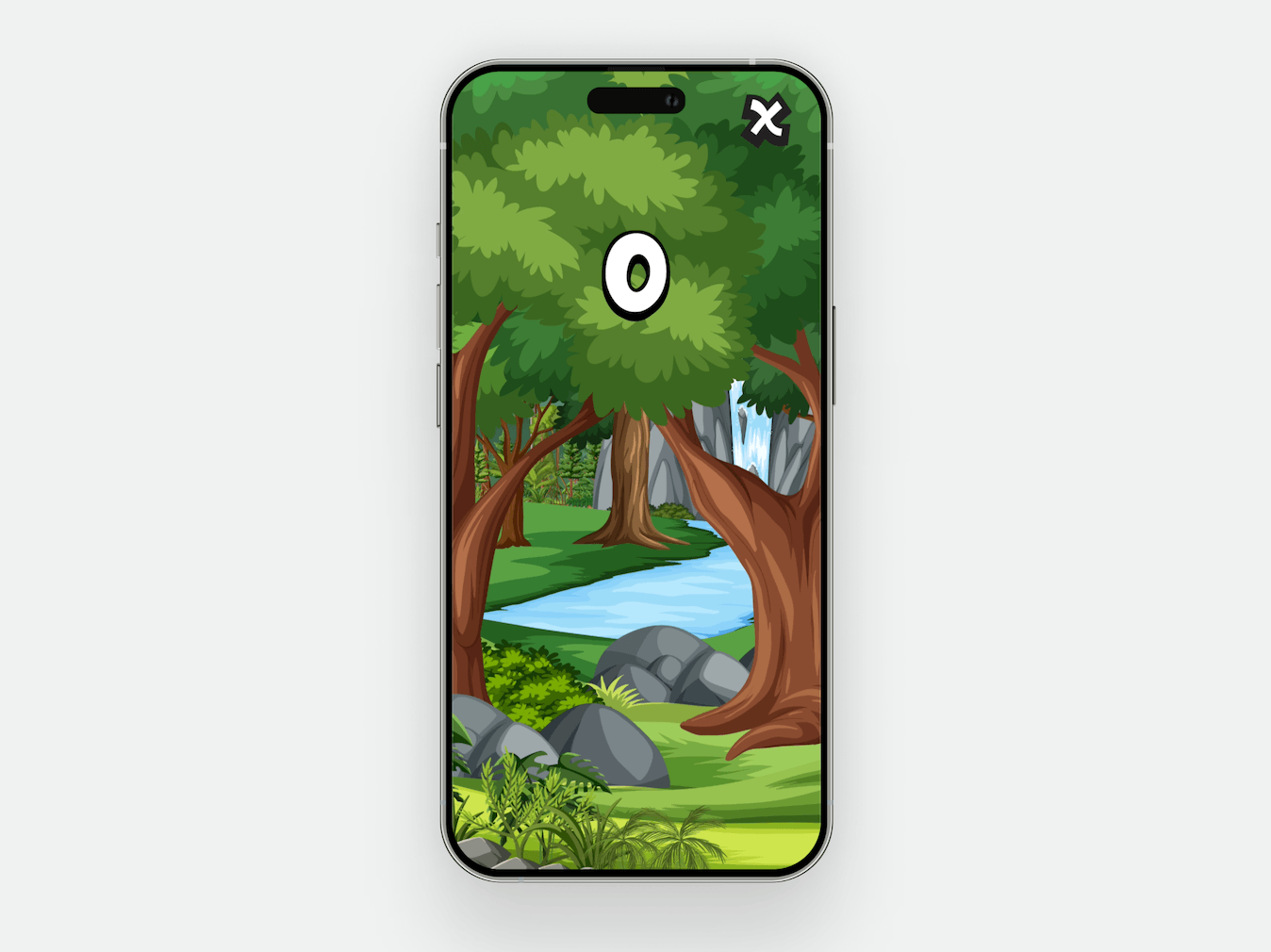 In ProtoPie, you can simulate game states, bridging the gap between the concept and the finished product. You can reset the game states to their initial conditions when players want to start playing the game again.
ProtoPie is your essential tool for game prototyping
Don't jump straight in the deep end. Game prototyping is a critical stage in developing hyper casual games, providing the means to test, refine, and validate your concepts—before full development.
Request a demo
today to learn more about how ProtoPie can help your team!